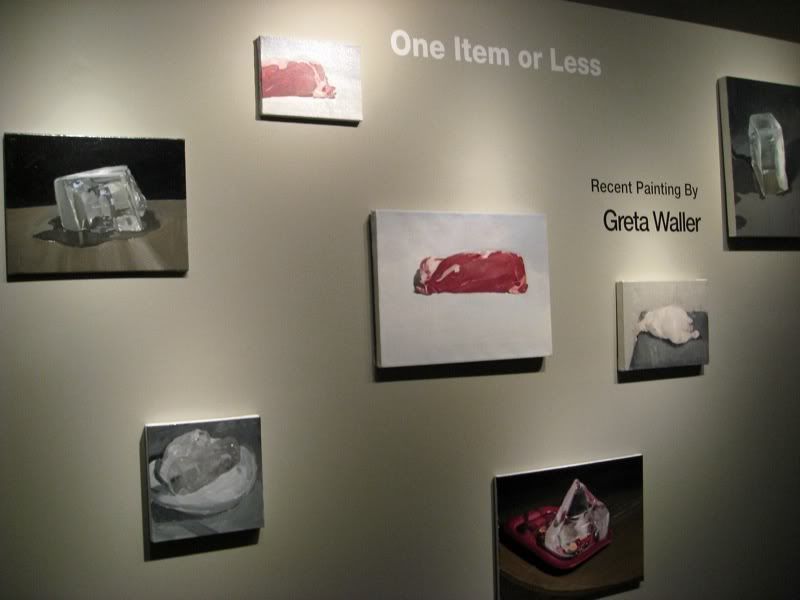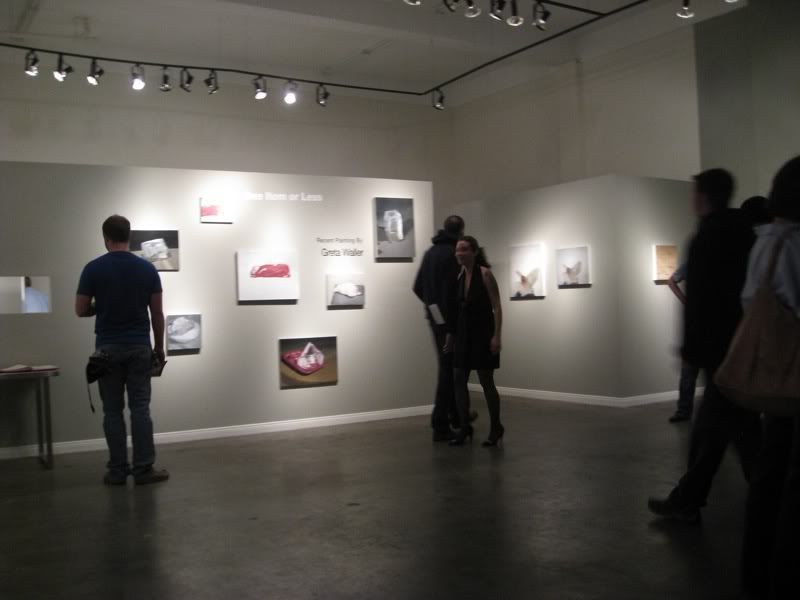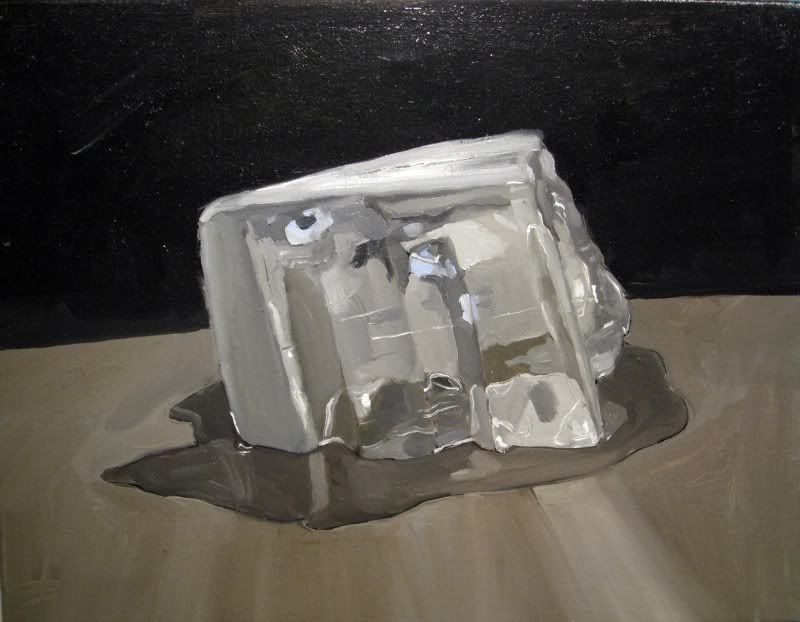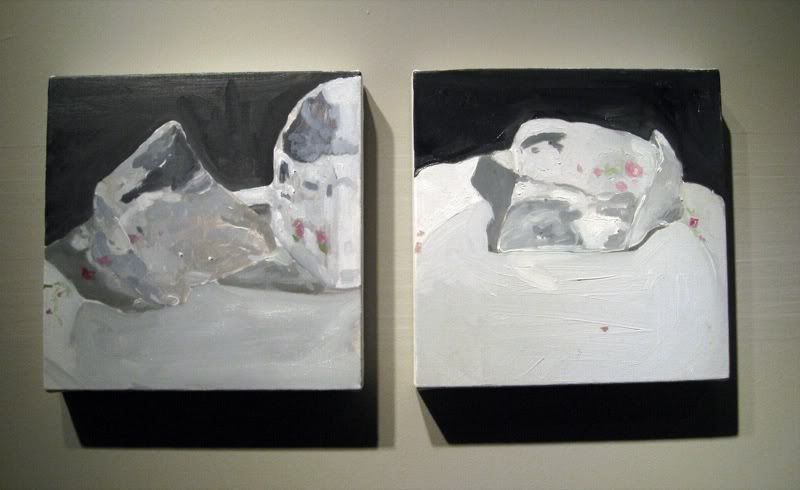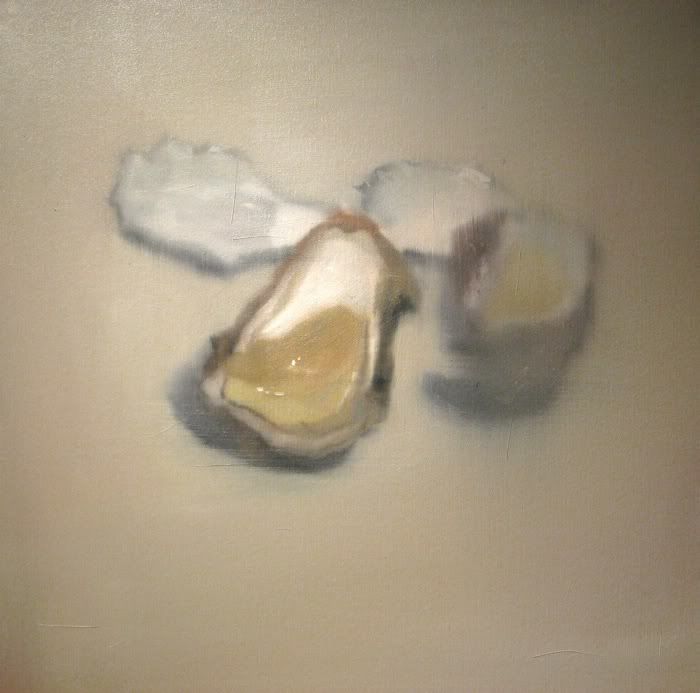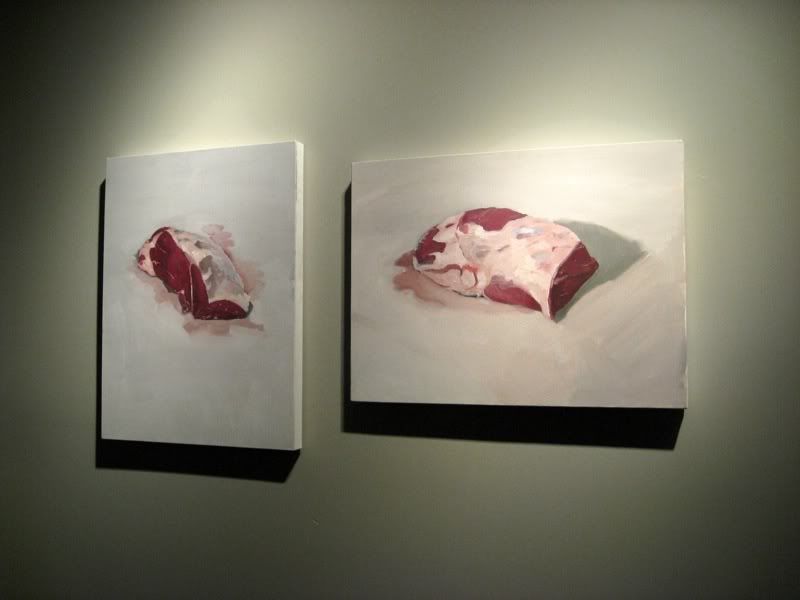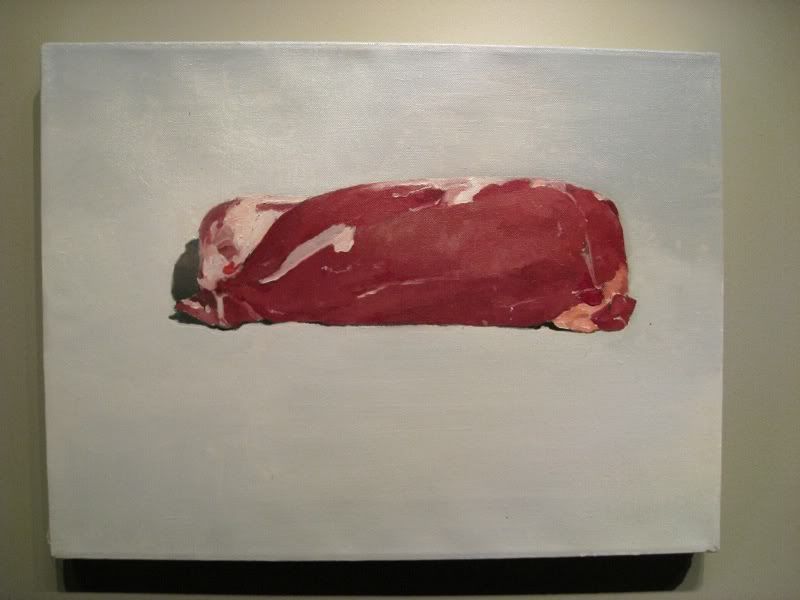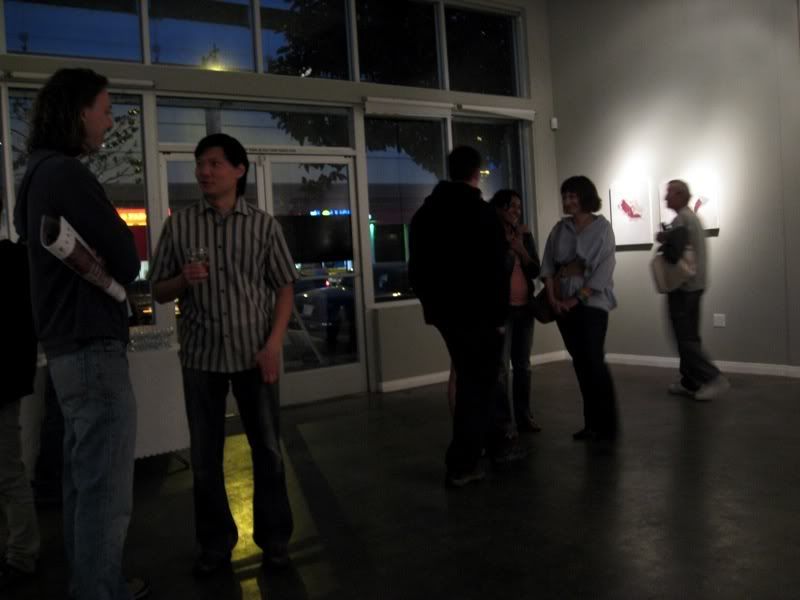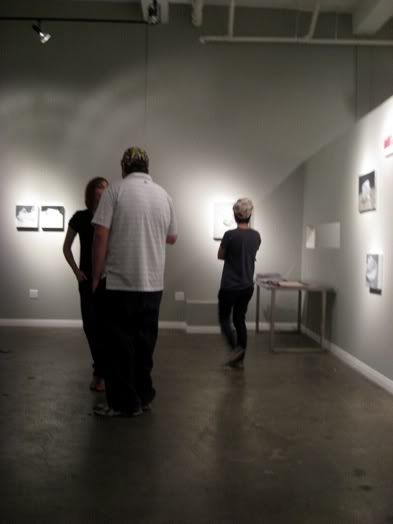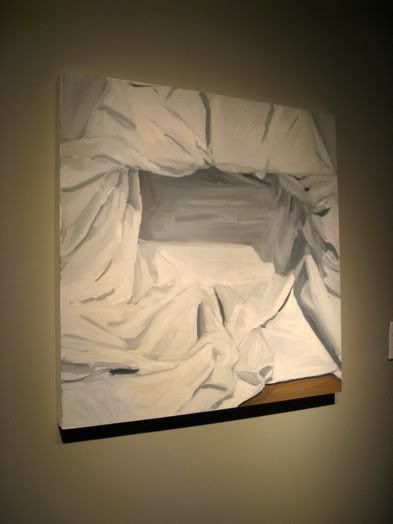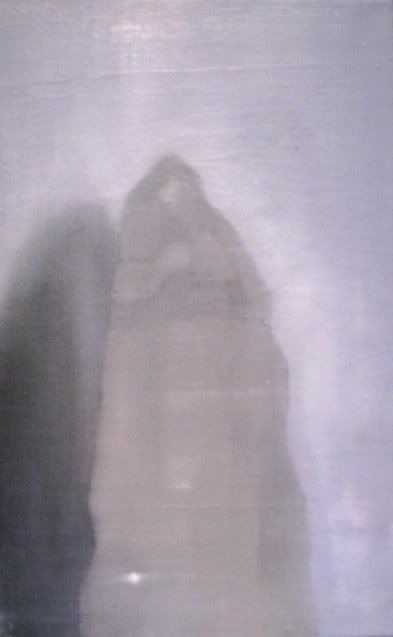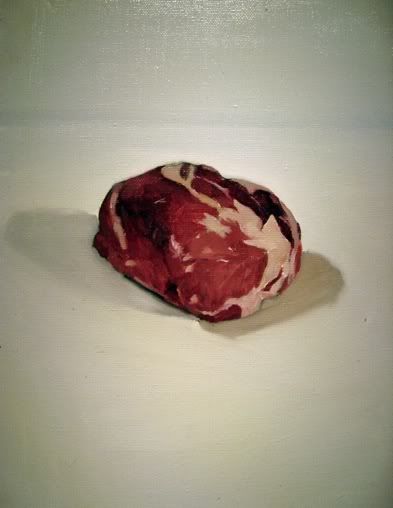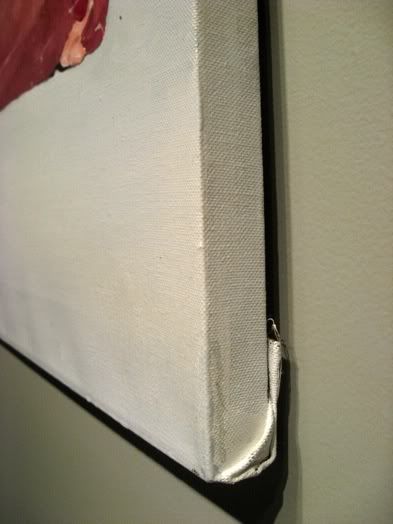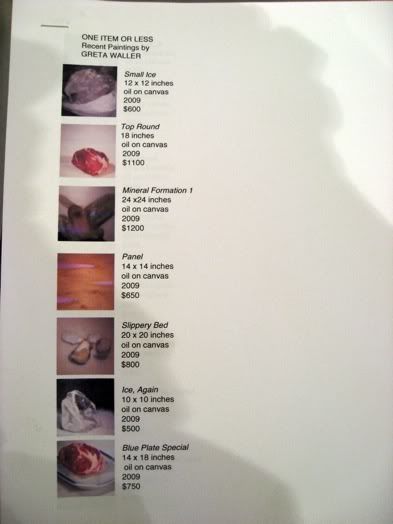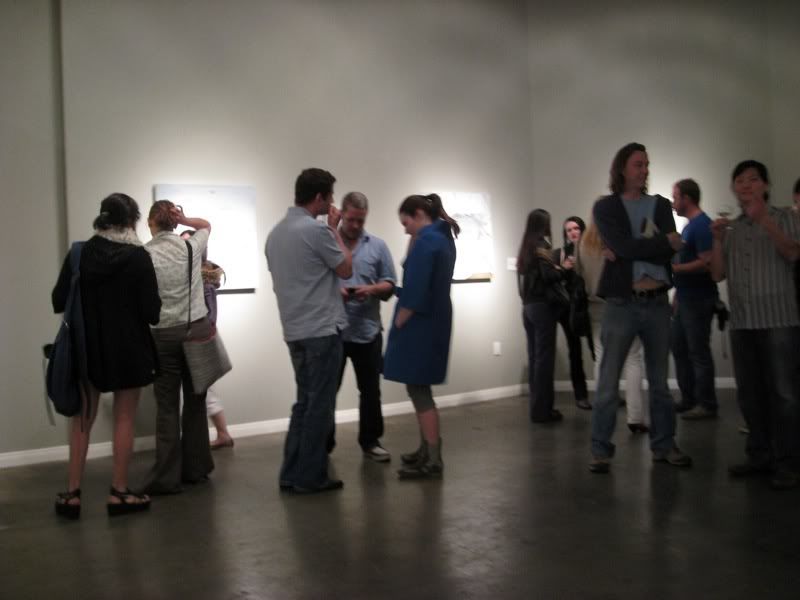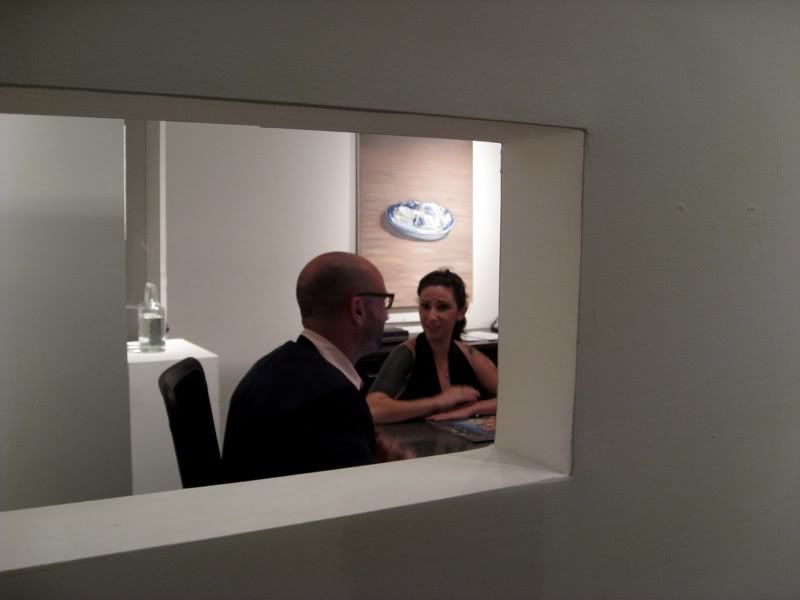 Greta Waller:

One Item or Less
March 28 - May 2
David Salow Gallery
@ UCLA open studios
HERE
Maybe you can help me solve this mystery. I normally would not think twice about shows like this but I got drawn in starting at the UCLA open studios where Waller, in a formal black dress amidst her studio's traditional still life setup with bowls of fruit and easel out for painting demos, seemed totally serious about her little landscapes and food paintings. Me, being completely immersed in conceptual/philosophical readings and questioning the whole influx of MFA'ers was taken aback when I was told by another UCLA student, that yes, she is completely serious (no Bob Ross puns here) about her painting and that UCLA is hopped up on the "return of painting."
Which brings me to the curiosity to traffic the Chinatown opening Saturday. Based on the works, many the same from her studio, I am still holding a smirky, curled lip and raised eyebrow. Despite the subject matter, which is inconsequential, the execution isn't expressive or gestural yet knowingly falls short of realism in a way that makes me lose gaze and think of local art fairs but according to her statement is deliberate (from what I can tell). Diving in further, some of the canvases are buckling and a couple hang off the wall at an angle. This criticism seems fair because I didn't see any signs that imperfections in the display or execution are beneficial to the overall concept. (Are they even intentional?) Reading that Greta's focus is on the act of preserving the practice of this particular form of painting and simultaneously comparing it to the Èpuration period (when France was on trial after the war) I cannot help but be confused. I am having a hard time believing the truth/intent of the artist message. If the paintings (and her website) are a type of commentary on the joy of painting, I am ready to move on.
From
artist website
:
"...The purging act of my painting is emblematic of a fear of being persecuted for realism. The repetition and stillness of the paintings could be simulacrums for a multitude of conceptions such as global warming, current fast paced society, but this is not the case. For me, recognition is repetition. I am using recognition as a catalyst for innovation in my technique and to persevere in this genre of painting. It is important in my work to display both honesty and a true love for the act of painting while acquiring a balance in between the illusion of painting and the paint itself..."