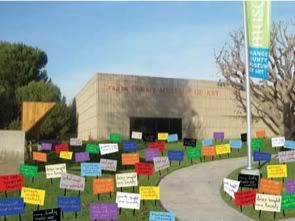 orange county museum left,
Lauri Firstenberg right

2008 California Biennial (press release)
oct 26, 2008 - mar 15, 2009

The 2008 California Biennial (CB08) continues the Orange County Museum of Art's four-decade long history of presenting new developments in California art. This year's biennial is guest-curated by Lauri Firstenberg, founder and director/curator of LAXART in Los Angeles. Firstenberg's approach to the 2008 California Biennial is expansive—the exhibition includes works by more than 50 artists and, for the first time, incorporates off-site projects with collaborating venues from Tijuana to Northern California. The exhibition is presented at both the Newport Beach and South Coast Plaza locations.